Order 50 More Ways To Soothe Yourself Without Food on Amazon and get the amazing bonuses you see below
This ground-breaking new book was written by Dr. Susan Albers, Mindful Eating "pioneer" and New York Times Best Selling Author. Dr. Albers has worked for 10 years at the Cleveland Clinic as a clinical psychologist and has helped 1,000s of people ditch dieting, eat healthier, and manage their weight long-term.
What are the order bonuses?
I'm glad you asked. What I've done is gathered some of the most liked and most shared mindful eating tools I've created and compiled them into one beautiful document for you. Here's what's inside the Soothe Yourself Without Food bonus:
Soothe Yourself Without Food Summit
Dr. Susan Albers interviews 11 experts to bring you the best tips for soothing yourself without food. Here is a list of the audio and video segments included in this bonus:
Ann Swanson - Chair Yoga to Unwind and Relax at Your Desk
Gretchen Rubin - Tips to Be Better Than Before
Shelby Kroach - Soothing Teas to Beat Stress Eating
Elaine De Santos - Tips for Moms to Calm Down & Unwind
Laura Morris - Feng Shui for a Calmer Environment
Dr. Rick Hanson - Cravings: Rewiring the Brain
Patty Erd - Soothing Spices to Be More Tranquil & Eat Mindfully
Susan M. Pollak - Compassion Meditation for Calm & Self-Care
Dr. Susan Heitler - 6 Essential Things to Say To Your Significant Other to Keep the Calm
Marcia Reynolds - Outsmart Your Perfectionistic Brain
Dr. Alice Boyes - 3 Things Calm People Do
Dr. Susan Albers shares 4 different 1 minute soothing techniques and more
20 Words To Turn On Your Zen - when you have the urge to comfort eat, distract yourself with this game!
The Mindful Bingo - use this bingo board to learn many of the techniques that you can use to calm and soothe yourself.
The Comfort Cravings Pledge - keep this pledge in a visible location so that you can re-commit to avoiding comfort eating whenever you see it.
S.W.A.P. Technique - use this technique to swap out emotional eating and insert something else (an activity, breathing exercise, movement) in its place.
10 Simple Ways To Soothe Yourself Without Food - use one or more of these 10 techniques whenever you feel a craving coming on.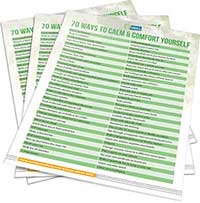 70 Ways to Calm and Comfort Yourself
Read through this list whenever you need to and apply one of these techniques to distract yourself from comfort eating.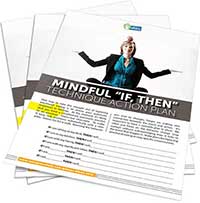 Mindful "If, Then" Technique
Use this technique to rewire your automatic responses to comfort cravings; this is very powerful!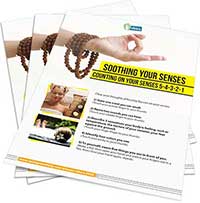 Soothing Your Senses
5 ways to relieve your cravings without reaching for the nearest snack.
Have you ever noticed that you are eating, but you're not hungry?
Do you snack on unhealthy foods most of the day and then beat yourself up over it and feel guilty?
When seeking comfort do you automatically reach for food because you don't know any other techniques to comfort, soothe and calm.
Do you find that you overeat (or feel you lose control) on a regular basis because food just tastes so good?
Do you want to make healthier and more nutritious food choices?
If you said, "yes" to any of these questions then you are in the right place.
The answers to these questions are why I wrote my new book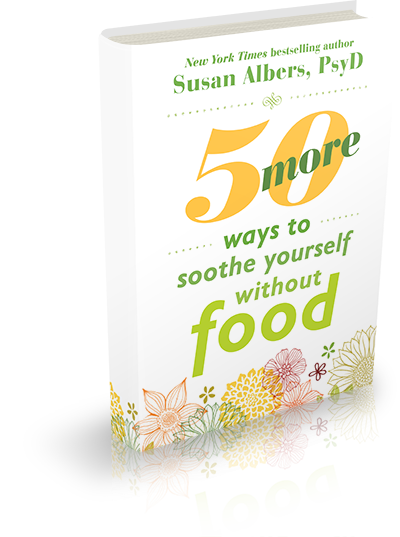 50 More Ways To Soothe Yourself Without Food is the much-anticipated follow-up to 50 Ways to Soothe Yourself Without Food. I this book I give 50 more highly effective ways to help you soothe yourself without eating—leading to a healthier, happier life! If you're an emotional overeater, you may turn to food to cope with stress and sadness, enhance joy, and bring a sense of comfort. But, over time, overeating can cause weight gain, heart disease, diabetes, and many other health problems. In 50 More Ways to Soothe Yourself Without Food, you'll find fifty more mindful and healthy activities to help you replace your need to overeat. Based in popular mindfulness practices, this book will show you how to slow down and be present during mealtime so that you end up making healthier choices. In addition, the activities in the book—such as yoga, aromatherapy, and breathing exercises—will help you gain a greater overall sense of well-being and appreciation for your body. If you're ready to stop using food as an emotional crutch, and start feeling healthy, happy, and truly fulfilled, this book offers 50 more ways!
How do I take advantage of this offer?
In order to get the exclusive downloadable PDF bonuses all you need to do is order my new book, 50 More Ways To Soothe Yourself Without Food through Amazon and then forward me your receipt (send to dralbers@eatingmindfully.com). I will then send you access to your bonus package. Easy.