How to maximize the results of the Mindful Eating Pledge using 7 tools and strategies that anyone can follow which will make incorporating mindful eating into your life easier than ever
These tools were developed by Dr. Susan Albers, Mindful Eating "pioneer" and New York Times Best Selling Author. Dr. Albers has worked for 10 years at the Cleveland Clinic as a clinical psychologist and has helped 1,000s of people ditch dieting, and manage their weight long-term.
Have you ever been on a diet where you lost a few pounds only to gain it back (and more) after stopping the diet?
Do you snack on unhealthy foods most of the day and then beat yourself up over it and feel guilty?
Do you ever eat a meal on autopilot while doing something else and find that you didn't really enjoy it?
Do you find that you overeat (or feel you lose control) on a regular basis because food just tastes so good?
Do you want to make healthier and more nutritious food choices?
If you said, "yes" to any of these questions then you are in the right place.
By taking the Mindful Eating Pledge you will be taking a big step towards mindful eating and overcoming the problems I just mentioned.  Traditional methods of weight management don't work; they never did.  Mindful eating on the other had, has worked for thousands of people all over the world. It can work for you too.
The Mindful Eating Pledge content that you will see below is going to:
Help you stop feeling guilty about the foods that you eat and start to feel more in charge and in control.
Go into detail about effortless ways to eat more mindfully.
Provide you with a 5-week Mindful Eating Pledge action plan and progress tracker.
I've created a program that will help you stop feeling guilty when you eat, cope with cravings, feel more comfortable in your body, start enjoying what you eat and stop obsessing! Here is what I'm offering: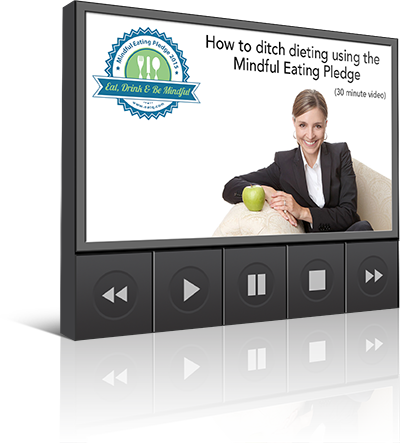 How to ditch dieting using the Mindful Eating Pledge (streaming video)
In this 30 minute video I'm going to into detail about how you can take the Mindful Eating Pledge and what it is.  If you apply what I share with you in this video you'll be on your way to ditching dieting in 2016 and being in control of your food choices.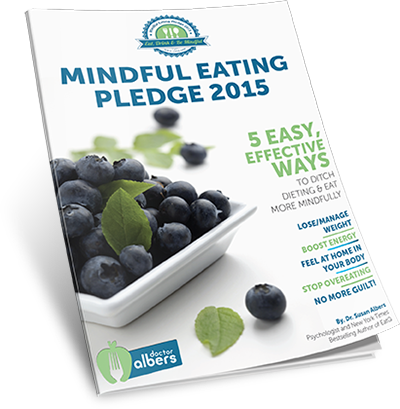 5 Week Mindful Eating Pledge Workbook (digital ebook download)
This downloadable PDF takes you by the hand and walks you through what you can do every day for 5 weeks to eat more mindfully.  Also included is a progress tracker that allows you to see how you are doing on your mindful eating journey.
Once you have completed the 5 weeks, you can start all over again!
What Is This Going To Cost Me?
Only you know the answer to that question, but I'm guessing that it is worth a lot to you since you're still reading this page.
Luckily, it's not going to cost a lot.  It's going to cost you VERY little to start on your journey to Mindful Eating.
How to ditch dieting using the Mindful Eating Pledge - 30 Minute Video - $97
5 week Mindful Eating Pledge workbook - $27
A fair price for this advanced information is $124.  Luckily for you, I'm letting you have this bundle for only $7, yes, $7.
I believe so strongly that this will help you I want to make sure that price is not an objection.  The information in this bundle is among the best information I've learned by thousands of books, research papers and peer-reviewed journal articles and by helping 1,000s of people at the Cleveland Clinic as a clinical psychologist.
I have to warn you that this special offer is only available until the end of 2016. After that I won't be "giving it away" for just $7 any more. The price will go up.
Now what I want you to do is click the yellow order now button below to place your order. After you place your order you will receive a receipt via email and a second email with information on how to access your purchase. So, go ahead and click the order button now.
Frequently Asked Questions
Still sitting on the fence? Here are answers to some of the most frequently asked questions…
Why $7?

If you're thinking "$7 is cheap…what's the catch?" then here are three reasons that should put your mind at ease. 1. $7 puts this information within reach of everyone…from single parents, to busy professionals to retired seniors. (And at just $7, you shouldn't have to get approval to order.) 🙂 2. It weeds out the freebie seekers. I only want people who are serious about mindful eating to take action, and help spread the message around the globe. 3. I believe that once you experience the quality of the Mindful Eating Pledge tools, you'll want more and maybe…just maybe…you'll come back, buy more and help spread the word of Mindful Eating. But that's it… No fine print…no "hidden trials"…no shenanigans. Just the information you need and the results you want.

How long will it take to get access to this program?

Immediate. After your payment is processed you will be instantly redirected to the download page where you can access the Mindful Eating Pledge tools.  You will also receive a receipt and another email that has a link to the download page.
Hurry…this special $7 offer won't last!
How to ditch dieting using the Mindful Eating Pledge - 30 Minute Video
5 week Mindful Eating Pledge downloadable workbook
24/7 access on any device
And for just $124 $47 $7. (Save 99%!!) Click the "Order Now" button for INSTANT ACCESS!