Attention Anyone Who Wants To Eat More Mindfully
Everything you've ever learned about traditional weight-management is a lie.
Learn How to Eat More Mindfully, Manage Your Weight & Eat Healthier Through Simple Exercises & Meditations That Take Just Minutes A Day
This information was developed by a clinical psychologist considered one of the "pioneers" of MINDFUL EATING who has worked for 10 years at the Cleveland Clinic and has helped 1,000s of people ditch dieting, and manage their weight long-term.
Do you find that you overeat (or feel you lose control) on a regular basis because food just tastes so good?
Do you want to make healthier and more nutritious food choices?
Do you ever eat a meal on autopilot while doing something else and find that you didn't really enjoy it?
Have you ever been on a diet where you lost a few pounds only to gain it back (and more) after stopping the diet?
Do you snack on unhealthy foods most of the day and then beat yourself up over it and feel guilty?
If you said, "yes" to any of these questions then you are in the right place.
You see, it's not your fault.  The traditional methods of weight management that you are taught don't work; they never did.  Mindful eating does work, it has worked for thousands of people all over the world. It can work for you too.
By learning how to eat more mindfully you will:
Eat less and enjoy your food more (nourish more!)
Learn how to take charge of your eating and stop overeating
Be able to evaluate your hunger and decide whether you are actually hungry before you eat a snack
10 Years Of Research and Clinical Work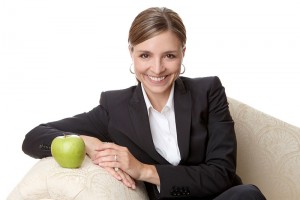 I've been a clinical psychologist at the Cleveland Clinic in Ohio for the past 10 years.  Everything that I've learned in that time I've boiled down into an easy to follow system that will help you reach your mindful eating goals.
I've focused on making sure that all the techniques I share meet my 3-E Promise to you: they must be Easy, Empowering and Effective.
You're probably thinking that the skill of mindful eating is difficult to develop, but it's really not.  Since all of my techniques MUST fulfill my 3-E Promise every one of them is easy to apply.  Not every technique will work for every individual, but you will find the ones that work for you and you'll be on your way!
For example, here are 6 mindful eating techniques that you can actually understand and apply just by reading one sentence!
Eat with your non-dominant hand to help you slow down (it reduces how much you eat by approximately 30%)
Eat your favorite foods last. Research indicates you remember the last thing you did best; therefore, you'll remember feeling satisfied after eating your favorite food last!!
Use red plates to help you eat slower. Our brains our wired to stop when we see red
Think location, location, location. Placing healthy foods in strategic locations (eye-level in your refrigerator, for example) increases the likelihood you will eat them versus having them tucked away in a crisper drawer where you will never seen them
Drinking an 8 oz glass of water 20 minutes before you eat can help you manage your appetite before a meal
Take a deep breath before taking a bite to increase the oxygen in your brain which helps you to make better food decisions
If you do nothing more than just apply those 6 techniques every day you will be eating more mindfully with a few days.  Within a few weeks they will begin turning into mindful habits. That is the power of this system of techniques I've created for you.
Mindful eating is a long-term solution.
Image, not having to worry about emotional eating anymore. You can sit down in front of any meal, even your favorite ones, and eat only until you are satisfied.  You will be mindfully enjoying every bite of food like a gourmet. You will notice textures you've never noticed before. You will notice flavors you've never noticed before. You will enjoy your food like you've never enjoyed it before. And then, when you're satisfied you mindfully stop eating. Emotional eating and weight issues will be a thing of the past.
Why Am I Qualified To Teach You How Stop Emotional Eating And Eat More Mindfully?
For the past decade I've been a clinical psychologist at the Cleveland Clinic specializing in eating issues, weight loss, body image concerns and mindfulness. After obtaining my Master's and Doctorate degree from the University of Denver, I completed an APA internship at the University of Notre Dame in South Bend, Indiana and a post-doctoral fellowship at Stanford University in California. All year round I put on mindful eating workshops across the country.
I'm also the author of six mindful eating books including: EatQ, 50 Ways to Soothe Yourself Without Food, Eating Mindfully, Eat, Drink, and Be Mindful and Mindful Eating 101. My work has been featured in O, the Oprah Magazine, Family Circle, Shape, Prevention Magazine, Self, Health, Fitness Magazine, Vanity Fair, Natural Health, the Wall Street Journal and I was featured on Dr. Oz. I'm also a contributor to the Huffington Post and Psychology Today.
Suffice it to say, I've dedicated my professional career to teaching and spreading the message of mindful eating. Like I mentioned before, everything I've learned about mindful eating is boiled down to things that are easy, empowering and effective. That's my 3-E Promise to you.
Here are just a few of the benefits of learning mindful eating and the techniques I share:
Learn the Marshmallow Method so that you can identify and cope with the urge to eat when you're not hungry
Discover how to turn mindless eating into mindful eating with one simple trick so to that you can eat less and nourish more
Use this one simple method to find out what effect eating with others has on how much you eat. You'll be surprised what you learn!
Learn how a professional food critic savors their food so that you can enjoy food like a gourmet
How you can take the power away from your cravings so that you can begin to respond mindfully to them
Find out how keeping your mind engaged can help you fight the urge to eat mindlessly so that you can stop emotional eating
Learn how to stop feeling guilty about the poor food choices you sometimes make and how to make better choices next time so that you can eat healthier and more mindfully
Learn the secrets of a favorite childhood game so that you can stop eating whenever you decide
"Picking" at good food can cause you to over eat without even noticing, learn how to be mindful of this habit so that you can stop it dead in its tracks
And so much more...
How Much Is This Going To Cost Me?
I know you're itching for me to get to the point, so here it is. I've created a program that will fast-track you along the path to mindful eating. It will fast-track you towards a life free of emotional eating, overeating and feeling guilt over food. Here is what I'm offering: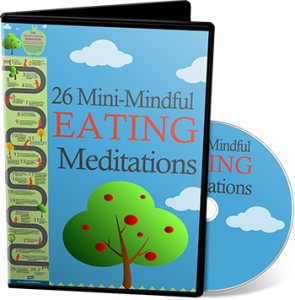 26 Mindful Eating Meditations (digital audio download)
By the time you have worked through these 26 Mindful Eating Meditations you will find yourself eating more mindfully, enjoying your food more and even taking more pleasure in every day occurrences.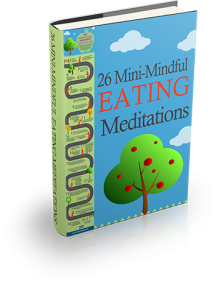 26 Mindful Eating Meditations (digital ebook download)
By the time you have worked through these 26 Mindful Eating Meditations you will find yourself eating more mindfully, enjoying your food more and even taking more pleasure in every day occurrences.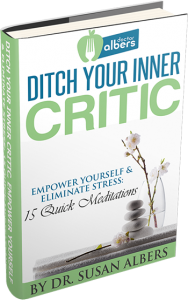 Ditch Your Inner Critic (digital audio download)
15 guided meditations that will help you kick your inner critic to the curb by thinking in more positive and productive ways.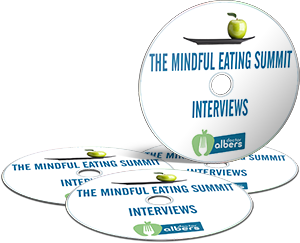 Unlimited access to the top Mindful Eating Summit interviews until the next summit
The interviews from the Mindful Eating Summit will never be for sale, they can only be reviewed as a free bonus with these packages.
Although the product image shows CDs, the interviews will only be viewable online.
"Just so enjoying all this knowledge by all these professionals. There is just so much to take in and soak it into the fibers of my brain. Love, love ,love!!!!! What the heck have I been missing all these yrs. What freedom there is to be a mindful eater. Am I perfect in this NO, but it's a process a journey one meal at a time. Ty Ty Ty"

Heather Pullen

Online Mindful Eating Summit Attendee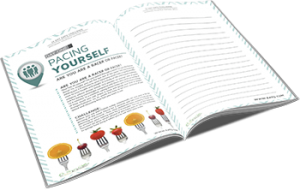 The 10 Day Mindful Eating Challenge (Workbook – PDF download)
This workbook will help you to focus on developing one new mindful eating skill each day.  Once you have developed the skill you turn it into a habit by repetition and you will start eating more mindfully without even thinking about it. This workbook will be your guide.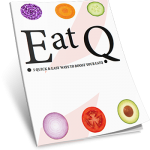 5 Quick Ways To Boost Your EatQ (Special Report – PDF download)
The book EatQ contains 25 tools and techniques to cultivate more mindful eating habits.  This special report includes 5 additional ones!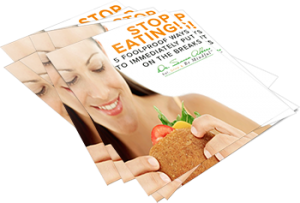 Stop Eating! 5 Foolproof Ways To Immediately Put On The Breaks (Cheat Sheet – PDF download)
Once you are eating, sometimes the hardest thing to do is stop because the food just tastes so good! These 5 methods can help you stop over-eating in its tracks.
What Would It Be Worth To You If You Could Eat More Mindfully Within 30 Days?
Only you know the answer to that question, but I'm guessing that it was be worth a lot you since you're still reading this page.
What I do know the answer to is how little it will cost you to be on your way to becoming a Mindful Eating Pro within the next 4 weeks.
26 Mindful Eating Meditations Audio Program - $97
26 Mindful Eating Meditations PDF - $17
Ditch Your Inner Critic Audio Program - $97
Unlimited access to the top Mindful Eating Summit interviews until December 31st, 2014 - Priceless because they can't be bought
The 10 Day Mindful Eating Challenge PDF Workbook PDF - $17
5 Quick Ways To Boost Your EatQ Special Report PDF - $17
Stop Eating! 5 Foolproof Ways To Immediately Put On The Brakes Cheat Sheet PDF - $17
Add all that up and you have $281.99.  But I'm not going to ask for that much.  In fact, I'm not even going to ask for half of that.  To get all the resources you I've listed above it will cost you only $127.
That's a small investment considering that the information you learn can literally change your life if you apply it. Also consider that it took me 10 years of research and clinical work to figure all this out.  I've read thousands of books, research papers and peer-reviewed journal articles and I've taken all that knowledge and turned it into an easy to digest set of resources.
Resources that meet my 3-E Promise which means it's easy, effortless and effective, so you can apply what you learn immediately.
Also consider how quickly this material will pay for itself. If you apply the mindful eating techniques I teach, you can stop overeating, stop stress-eating, stop boredom-eating and only eat when you're hungry and your body needs nourishment. The savings in groceries alone is more than the price of this package.
I have to warn you that this special offer is only available for a limited amount of time. I haven't decided yet when I will be closing the doors on this, but I will soon.
Now what I want you to do is click the yellow order now button below to place your order. After you place your order you will receive a receipt via email and a second email with information on how to access your purchase. So, go ahead and click the order button now.
Mindfully Yours,
Dr. Susan Albers
A "pioneer" of Mindful Eating and author of the books EatQ, Eating Mindfully and 50 Ways To Soothe Yourself Without Food
P.S. #1: If you decide not to purchase this valuable resource today then I'm afraid you might miss out. To gather the same information yourself you'll have to read the same books, the same articles and the same research journals I did. They number in the 1000s. Not to mention you'll have to work for 10 years in a clinical setting at one of the top clinics in North America, which is simply not an option for most people. With my help you can do this, so go ahead and click the Order Now button and I'll see you on the other side.
P.S. #2: Just to recap, this Mindful Eating package includes 2 audio programs and a mediation PDF. As a bonus you will be able to review all of the top content from the Mindful Eating Summit until December 31st, 2014. You will also receive three more valuable bonuses with techniques to help start eating more mindfully this week!